In an effort to actually write a bit more on this here blog (especially since my hours have been cut at work and I need something to do) here is what I hope is going to become a more regular feature, essentially me writing about various things that I love and writing on a Friday so I can shamelessly use The Cure's lyrics. So here goes:
TV: With my extra day gained this week, I've watched things I've been meaning to watch for a while i.e. binge watching The Office US and my long waited rewatch of The Mighty Boosh. The latter I've not watched for nearly 2 years at least and watching it all again from the beginning is bringing back some excellent memories. Should I also worry that I know most of the episodes by heart? As for The Office US, I've long loved the series and felt a watch was long over due, I missed Jim and Pam. Do I need to say anything more? It also goes hand in hand with my next talking point.
Things to do: My TV watching is coupled hand in hand with my attempts to cut down on my jumper knitting time. So far I've managed a sleeve in just over a week, but when I want it finished by Record Store Day I have to get moving! Especially as I somehow managed to get the day off work (now just to decide between Jumbo and Crash for the day!).Definitely not helping myself by currently working on 3 projects! I'm also attempting to get a little bit healthy as I really do need to lose weight by now so I've been attempting to do Yoga every night this week. It's actually been really helpful in calming me down and getting me to sleep easier, something I thought would never happen given how terribly I sleep.
(The aforementioned jumper. I've ditched the patterns on the sleeves though.)
Wants: Attempting to save at the minute is really painful as there is so much I want and it all costs a ridiculous amount! Number one on my wish list is this dreamy Fred Perry bag, which matches the purse I bought myself recently! Its a decent enough size to fit my laptop in, just incase I ever want to venture out with it, and plenty of other things too. I do love a big bag!
Number two on the wish list is this dreamy coat from Urban Outfitters. Damn ever leaving there and not getting my employee discount anymore! Coats are a big part of my life (we live in England and it's always cold!) and this one is pretty spot on. Combining my love of a good herringbone, a nice neutral colour and the perfect shape. What more could a girl ask for?! It looks ideal for mid season dressing, as well and layering up in winter with plenty of jumpers! Putting my skills together yet again!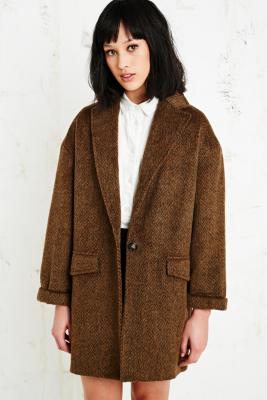 In things that I have crossed off my wish list, I've finally found a really nice navy nail varnish! Considering a large percentage of my wardrobe is a) Navy and b) Paisley, this is something that I've needed for a while. The one I went for was the Barry M Gelly one in Balckberry (available here), a varnish that I've found doesn't chip as much as the rest of my collection does! I'm also trailing a new eyeliner, possibly my 4th of the year so far, so we'll see how that goes and I'll update!
Music: Next week sees me head out to see the NME Awards tour for the first time in a couple of years, and mainly because of these guys here:
The days might be getting longer and lighter, but its still cold enough out there for me to enjoy one of my beloved winter bands, Interpol. Having never seen them before I'm far too excited and to stick them on a tour with the amazing Temples, Royal Blood and my new favourites Circa Waves, NME have really hit this one out of the park! (I also just got far too excited at almost completing this week's NME crossword). Since money's tight at the minute it's sad that my gig going has to be reduced (I mean how else am I going to run off with a boy in a band?) but when theres line ups like this I at least feel like I'm getting my money's worth!
My other music obsession this week is the lovely Elbow. It's album release week for them and it's a bloody excellent album. Elbow are a bone of contention between me and my Dad's comparative music tastes, since he is stupidly averse to them (sorry Dad, it's one of your only flaws) and though he may say its yet more Elbow by numbers, its actually mostly a dream. Occasionally you are wrong Dad!
So that's number one of this little feature here done! Eventually I will get really good at this again and I might even manage to make this weekly! Anything you want to see with comment, find me on Twitter (@EmilySolan) or drop me an email, which can be found on my about page! Now time for me to put my thinking cap on for another feature that you may well see next week!